Product Description
Lawmate PV-500 EVO2U is the newest flagship Lawmate model, next model in line of PV-500 Mini DVRs.
Just like the previous model, PV-500 EVO2U is a top quality product in it's price category. With it's features it will provide an actual edge compared to other similar products. Whether you desire high quality recording, digital camera support or ease of use beyond what you have been used to, PV-500 EVO2U is most likely the right choice.
The biggest differences is the switch between HDMI and USB standards, after initial testing we found that the USB cable advantage provides faster connection with camera, which includes less camera latency and visibly faster low light adjustment.
The new cable standards allow the camera to have u faster signal to the DVR, and that the low light adjustment is smoother. Also the cables are a bit longer.
All of before mentioned comes with very high level of configurability and ways to set-up:
Resolution support from low VGA to HD, adjustable FPS
Analogue or digital camera support
Multiple recording modes including some not seen in other brands
Multiple ways to operate the PV-500 EVO2U include touch screen, IR remote and wired controller (all part of standard accessories)
Records audio source from integrated microphone or attached camera
New Lawmate PV-500 EVO2U features include:
New 3″ highly responsive LCD touch screen
H.264 video compression support
1080p recording
2MP camera support
Basic specifications:
Resolution:  From 320*240 to 1920*1080 / adjustable 1 -25 FPS 
– Current LawMate cameras support up to 1280 x 960 video resolution. New 2MP camera in works, will utilise PV-500 EVO2U 1080P recording capacity.
– PAL signal up to 25 FPS, NTSC up to 30 FPS (auto – detect)
Display: 3″ 960 X 240 Colour Touchscreen TFT LCD
Memory: SDHC (Supports up to 32 GB SDHC)
Battery Lifetime: 200 min.
Dimensions: 84 * 54 * 17 mm
Weight: 71g 
Feature focus
(NEW!) H.264 video compression support
New H.264 video compression provides better quality video recording compared to the model (PV-500 EVO) for the same video source.
Faster file creating is another benefit of the way new compression is integrated in the PV-500 EVO2U that allows less missed A/V material during multi-hour continuous recording sessions.
Several layers of security
PV-500 EVO2U records logs of all the functions used on the device. Power on password as well as USB connection password can also be set up with an easy to use virtual on-screen keyboard to add another level of security.
Each video recording includes serial number of device, exact time and date of recording and frame rate counter to make sure the recording can not be tempered with.
Easy to remove and extend battery system
PV-500 EVO2U while only 22 mm deep, not bigger than a cigarette pack, is actually consisted of 15 mm of PV-500 EVO2U itself and another 7 mm of standard 200 min.
2200 mAH battery (BA-2200)
. The system allows quick and easy spare battery exchange system as well as installation of extended longevity 400 min.
4400 mAH battery (BA-4400)
in matter of seconds.
New system is also more durable than the ones used in previous Lawmate recorder models (PV-500, PV-600 and PV-700) where power connectors were the weak spot of the system with a tendency to break down after certain number of battery removals.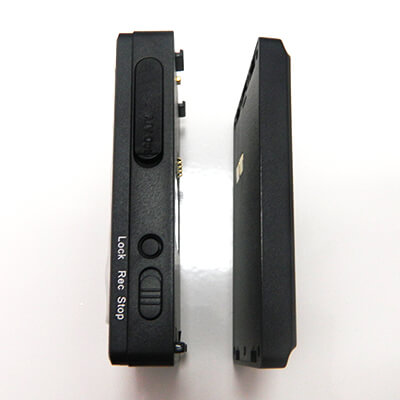 PV-500EVO2U with BA-2200
Motion detect grid
Motion detection for video recording is no longer limited by a factor in environment that is unstable and is not purpose of our recordings.  PV-500 EVO2U firmware allows setting up motion detection grids that will allow you to exclude part of the environment that you do not want motion detection to be effected with.
Whether it be blinking commercial in the background or busy part of the scenery, none of that necessarily needs to trigger the start of your motion recording with a properly set motion detect grid.

PV-500 EVO2U motion detect grid
Innovating Pre-event and Pre-motion recording modes
PV-500 EVO2U same as every other recorder will offer standard recording mode with on-screen preview, time scheduled recording as well as mentioned grid supported motion detect mode.
On top of regular modes, PV-500 EVO2U offers innovating new modes:
Pre-event and Pre-motion modes will keep a configurable length buffer of your recording.
What does that mean ?
In Pre-event mode although action that you wanted to record has already happened you can start the recording function and the video of the event that has already passed will be saved. When things happen fast and reaction is sometimes not quick enough that is where Pre-event mode really shines.
Pre-motion mode works much in the same way and will record events that happened before the motion detect is triggered. It is especially useful in low light sceneries where visual motion detect more often then not triggers a second or two late.
On screen zoom function
High resolution recording with a camera such as 800 TV Line CMD-BU13LXU can record things that might not as easy to see on a screen of a relatively small sized device such as PV-500 EVO2U. There is no worry tough as on screen zoom function is available with a touch on the screen to make sure you are recording the intended scenery.
**PV-500 EVO2 illustration (Name and Parts from quick manual)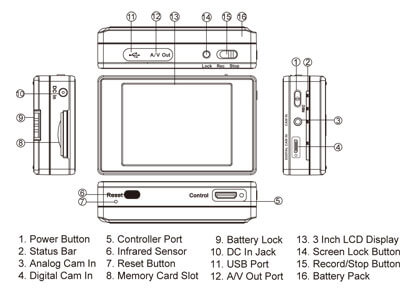 PV-500 EVO2U Illustration
While PV-500 EVO2U offers many options for configuring your recordings and functionality for advanced user, it Is also very easy to start for a person that just wants a basic plug and play and record function.
Easy 3 step process to start recording straight from the box:
Connect the camera to 2.5 mm jack for analogue camera (figure 4. at the above illustration) or to USB-in jack for digital camera (figure 5. at the illustration – the place stayed the same, just the port changed to USB)
Turn the device on by pressing power button (figure 1.)
Push the record / stop switch at the top of the DVR to the left (figure 15.)
Notes
For more detailed specifications please refer to the PDF files below.
24 months warranty.
Lawmate CMD-BU20U is the newest Full HD camera that makes best use so far of Lawmate premium PV-500 EVO2U and PV-1000 Touch5U digital video recorders.
New CMOS 1/2.8" Sony sensor provides over 1200 TV line resolution together with 1920 X 1080 digital output.
The new cable standards allow the camera to have u faster signal to the DVR, and that the low light adjustment is smoother.
Also the cables are a bit longer.
Main CMD-BU20U features:
1200 Tv line+  CMOS sensor
1080p digital resolution output
Integrated microphone
WDR (Wide Dynamic Range) support
High sensitivity (can record in low light situations)
NTSC/Pal support
Interchangeable buttons/screws
External AGC microphone (part of standard accessories)
Full CMD-BU20U Specifications:
Video resolution: >1200 TV Line
Pixel size: 2.8um(H) x 2.8um(V)
Digital picture output: 1920 X 1080 (1080P)
Video System support: Both NTSC and PAL
Image sensor type: Progressive 1/2.8" Sony CMOS
Illumination sensitivity: 0.08 Lux / F2.0 (50 IRE)
Lens F/No: F2.0
Lens Diameter: 4.3mm
Angle of View: 78°
Depth of Field: 50 cm – ∞ 
Electronic Shutter: 1/8 ~ 1/30,000
Video output: RAW Dana
Audio output: 2 Vp-p (Max) 10 KHz ohms Impedance
AGC: >52 db (AGC off)
S/N Ratio: 36 dB (Max)
Power Supply Voltage: DC 3.3V +/- 5%
Power Supply Current: 200 mA
Operating Temperature: -10℃ ~ 60℃
Operating Humidity: 20 ~ 90%
Storage Temperature:-30℃ ~ 80℃
Dimension: 30X30X20 mm
Weight: 10 g
CMD-BU20U Features focus:
1080P Resolution
Once again Lawmate is ahead of the pack with the first of its kind 1200 TV line digital pinhole covert camera.
This camera provides more detailed, better quality and clearer image that is easily comparable with larger overt surveillance solutions.
Depth of Field
This camera ideal range is from 50 cm onwards. That makes it a perfect choice for recording people, things, situation and scenario and not as good of a choice for sharp recordings of a small text that must be recorder from very close distance.
Camera high resolution will still allow recording of larger fonts on a document even from around 50 cm distance.
For a sharp recording from very small distances cameras such as CM-SG20 and CM-DC10 are better choices.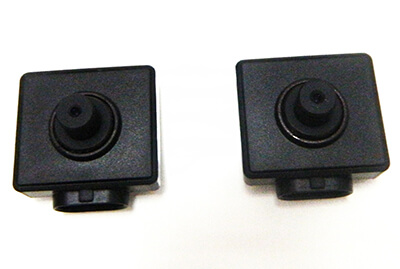 CMD-BU13LXU vs CMD-BU20U Comparison
CMD-BU13LX on the left. Better low light sensitivity of CMD-BU13LX vs Higher resolution CMD-BU20U.
Notes:
For a simple review of CMD-BU20U functions feel free to check out the manual below.
24 months warranty.