Product Description
The PV-50U Kit is the smallest DVR we currently have from Lawmate, and also the kit that is perfect for low budget needs. It is a convenient one button operable DVR with camera that comes with a strong flat swivel mount.
The PV-50U DVR is a matchbox sized (75*40*15 mm) mini DVR that is compatible with Lawmates analogue cameras (
BU-19
,
ER-18
,
HB-20
,
NT-18
,
CM-DC10
..). The recording can be done via the instant recording button or the controller cable that can be connected directly to the DVR. The device supports 120-150 min of continuous recording and has an overwrite switch. Every video is approx. 30 min in lenght.
It comes with a 16 GB, and supports up to 32 GB SD carts. Moreover, the DVR is recognized as a "removable drive" by the PC, which enables you to copy/paste the needed files between your computer and the DVR. (SD card has to remain in the DVR for that purpose).
The CM-BU18 is a high resolution CMOS button camera with built-in microphone, and built-in interchangeable NTSC/PAL switch. It has a min. illumination of 0.3 Lux and an angle of view of 78 degrees.
PV-50U KIT Features:
Matchbox size DVR
Analogue camera compatible
Instant record button
Direct connection to cable controller
Overwrite & Vibration ON/OFF functions
NTSC/PAL Video Input
Built-in Interchangeable NTSC/PAL switch in camera
Built-in Microphone in camera
Interchangeable covert head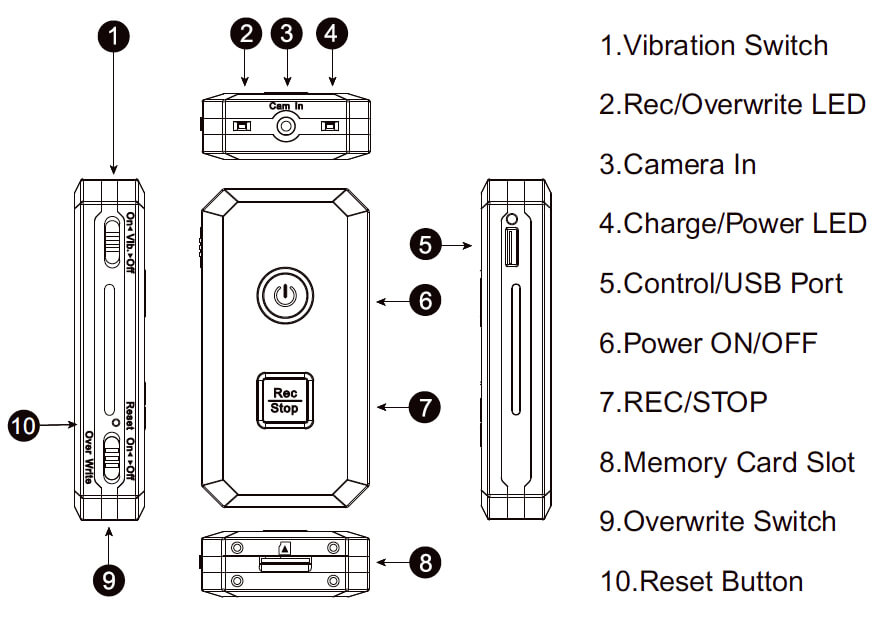 >>Illustration from Quick Manual<<
PV-50U Specifications:
Video Input: NTSC/PAL
Resolution: NTSC: 720*480 / PAL:720576
Frame rate: NTSC: 30FPS / PAL: 25FPS
Date/Time Table: YYYY:MM:DD for Windows
Storage Capcity: Supports up to 32 GB SD Cards
Vibration Alert: Yes
Overwrite: Yes
PC Interface: USB 2.0
Power Consumption: 290mA – 370mA
Recording Time: CMOS: 150 min / CCD: 120 min
Dimensions: 75*40*15 mm
Weight: 48 g
CM-BU18 Specifications:
Number of efective pixels: NTSC:720H x 480V; PAL:720H x 576V
Image Sensor: 1/4 Inch CMOS
Resolution: 480 TV Line
MIN Illumination : 0.3 Lux/ F2.0
Focal lenght: 4.3 mm
Angle of View : 78°
Dimensions : 21*21*11 mm
Warranty 24 Months.