Product Description
 Lawmate PV-500HDW Pro has all the features and advantages of the PV-500HDW, but comes with a 3′ LCD screen that offers additional usage options.
This DVR has quite a few possibilities for monitoring and operation of the device. It can be operated manually, on the DVR, or via the cable controller that comes with the accessories.
When connected to a Wi-Fi network via your Android or iOS device, it can be remotely controlled, set-up, and you can view your videos or download them.
Now the
PI-RF50TX
has been released – a cable controller that allows you to control the DVR form up to 10 meters away.
All this options will take your work and ease of operation to a whole new level. It also offers the possibility of multiple persons working with one device at the same time.
PV-500HDW Pro Main Features:
3′ Touch Screen
Full HD 1080p @30FPS
Wi-Fi enabled DVR
Records up to 160 minutes in 1080p with BA-2200
Compatible with the BA-4400
Compatible with the PI-RF50TX cable controller – control without touching the DVR
Connect it to any Wi-Fi enabled Android/iOS device via the DVR's App
Monitor your video feed and/or download the material from your Android/iOS device
Record video and take snapshots from your Android/iOS device
Cannot turn on when SD card is removed (prevents battery loss)
LED indicators to easy recognise the various modes and functions of the Wi-Fi DVR
PV-500HDW Pro Full Specifications:
Video Input: BU-18HD (2000*1121) CMOS Camera
Compression Algorithm: H.264, JPEG
File Format: MOV, JPG
Video Recording mode: Auto/Manual/Motion Detection/Overwrite
Recording Resolution:: 1080P/720P/WVGA
Frame Rate: Up to 30fps
Wi-Fi: Built-in Wi-Fi Module (IEEE 802.11b/g/n)
Memory type: Micro SD Card (up to 32GB SDHC)
Data interface: Mini USB 2.0
Date/Time Table: YYYY/MM/DD, HH:MM:SS
Power Input: DC 5V
Power Consumption: 380mA-440mA
Battery Lifetime: 160min @1080P Resolution with BA-2200
Dimensions: 85*54*21mm (With Battery)
Weight: 104g (With Battery)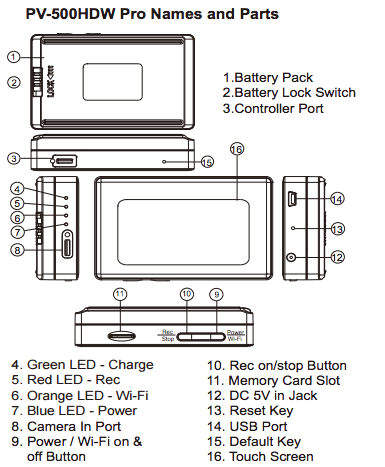 *Names and Parts from Quick Manual
PV-500HDW Pro Feature Focus:
Built-in Wi-Fi Module – once you establish a connection between your smartphone and the PV-500HDW Pro, you can remotely change the settings of the device, such as motion detection and resolution. Also, you can monitor the live feed, take snapshots, or download the material.
3′ Touch Screen – although the device has the option to monitor the live feed via your smartphone, a great number of requests have been placed for a LCD screen to the PV-500HDW. This is the new version, featuring a 3′ LCD screen that opens quite a few possibilities depending on the type of work you do. For starters it offers the possibility to be used by multiple persons, one monitoring the screen and the other the live feed via the smartphone.
Compatible with the PI-RF50TX cable controller – control without touching the DVR and operate the HDW Pro from up to 10 meters away. The controls follow Lawmate's known user experience – with the – Power/Wi-Fi/Record button – design.