Product Description
Lawmate CMD-BU20U is the newest Full HD camera that makes best use so far of Lawmate premium PV-500 EVO2U and PV-1000 Touch5U digital video recorders.
New CMOS 1/2.8" Sony sensor provides over 1200 TV line resolution together with 1920 X 1080 digital output.
The new cable standards allow the camera to have u faster signal to the DVR, and that the low light adjustment is smoother.
Also the cables are a bit longer.
Main CMD-BU20U features:
1200 Tv line+  CMOS sensor
1080p digital resolution output
Integrated microphone
WDR (Wide Dynamic Range) support
High sensitivity (can record in low light situations)
NTSC/Pal support
Interchangeable buttons/screws
External AGC microphone (part of standard accessories)
Full CMD-BU20U Specifications:
Video resolution: >1200 TV Line
Pixel size: 2.8um(H) x 2.8um(V)
Digital picture output: 1920 X 1080 (1080P)
Video System support: Both NTSC and PAL
Image sensor type: Progressive 1/2.8" Sony CMOS
Illumination sensitivity: 0.08 Lux / F2.0 (50 IRE)
Lens F/No: F2.0
Lens Diameter: 4.3mm
Angle of View: 78°
Depth of Field: 50 cm – ∞ 
Electronic Shutter: 1/8 ~ 1/30,000
Video output: RAW Dana
Audio output: 2 Vp-p (Max) 10 KHz ohms Impedance
AGC: >52 db (AGC off)
S/N Ratio: 36 dB (Max)
Power Supply Voltage: DC 3.3V +/- 5%
Power Supply Current: 200 mA
Operating Temperature: -10℃ ~ 60℃
Operating Humidity: 20 ~ 90%
Storage Temperature:-30℃ ~ 80℃
Dimension: 30X30X20 mm
Weight: 10 g
CMD-BU20U Features focus:
1080P Resolution
Once again Lawmate is ahead of the pack with the first of its kind 1200 TV line digital pinhole covert camera.
This camera provides more detailed, better quality and clearer image that is easily comparable with larger overt surveillance solutions.
Depth of Field
This camera ideal range is from 50 cm onwards. That makes it a perfect choice for recording people, things, situation and scenario and not as good of a choice for sharp recordings of a small text that must be recorder from very close distance.
Camera high resolution will still allow recording of larger fonts on a document even from around 50 cm distance.
For a sharp recording from very small distances cameras such as CM-SG20 and CM-DC10 are better choices.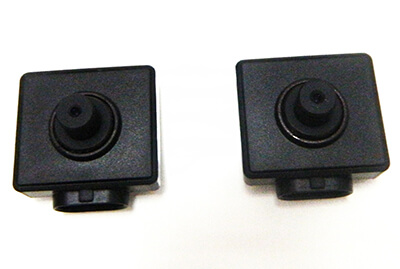 CMD-BU13LXU vs CMD-BU20U Comparison